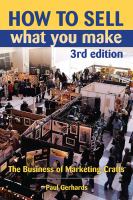 How to sell what you make : the business of marketing crafts / Paul Gerhards.
Author
Gerhards, Paul.
Note: Content
Crafts as a business: an introduction -- Crafts fairs and street fairs: your direct link to consumers -- The gallery connection: stepping into the wholesale marketplace -- Selling to the trade: expanding your market -- Advertising and publicity: marketing through traditional media -- Going global: marketing and selling on the internet -- Service, fulfillment, and sales reps: keeping your customers satisfied -- The itinerant crafter: a booth for the crafts nomad, indoors and out -- On paper: the back office of the crafts business -- On crafts and craftsmanship: true to the legacy.
This item has been checked out 3 time(s)
and currently has 0 hold request(s).