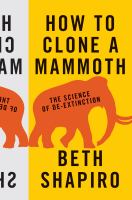 How to clone a mammoth : the science of de-extinction / Beth Shapiro.
Author
Shapiro, Beth Alison.
Note: Content
Reversing extinction -- Select a species -- Find a well-preserved specimen -- Create a clone -- Breed them back -- Reconstruct the genome -- Reconstruct part of the genome -- Now create a clone -- Make more of them -- Set them free -- Should we?.
This item has been checked out 4 time(s)
and currently has 0 hold request(s).