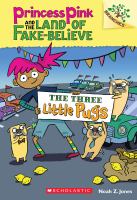 The three little pugs / by Noah Z. Jones.
Author
Jones, Noah, (Noah Z.) author, illustrator.
Abstract:
In the Land of Fake-Believe the Three Little Pugs' used car business has sold Scaredy-Pants Wolf a lemon (literally) instead of a delivery van, so Princess Pink gets an opportunity to use her karate moves to get Wolf's money back--and set the Pugs on the straight-and-narrow path to business success.
This item has been checked out 4 time(s)
and currently has 0 hold request(s).