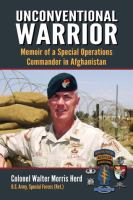 Unconventional warrior : memoir of a special operations commander in Afghanistan / Colonel Walter Morris Herd, U.S. Army, Special Forces (Ret.).
Author
Herd, Walter Morris, 1960-
Note: General
Includes index.
Note: Content
Preface: Six generations of American patriots -- The making of an unconventional warrior -- Initial training -- First assignment -- Transfer to the Rangers -- Airborne! -- Jumpmaster -- A lesson in leadership -- Time to move on -- Understanding special operations structure -- Earning the Green Beret -- Special forces history and the "COIN" -- Special forces training -- Reporting to the regiment -- Training for unconventional war in Europe -- The first desert war -- Staff time -- Unconventional warfare as illustrated by Tom Sawyer -- The Lware campaign -- Firefight -- Fire support -- Returning fire -- UW thinking in a "joint" environment -- Czech Republic paratroopers -- The press -- Fallen comrades -- Quarters -- Winning in Afghanistan: understanding the culture -- The UW option -- The challenge to the UW option -- Bases, good order and discipline -- Holiday festivities -- Political correctness -- Afghan and Pakistan meetings -- Prisoner interrogation -- Special Forces soldiering -- Power in the modern era -- Provincial reconstruction teams -- Learning from history -- Final thoughts.
This item has been checked out 9 time(s)
and currently has 0 hold request(s).